FREE
TRUTH ABOUT DRUGS INFORMATION KIT
FOR EDUCATORS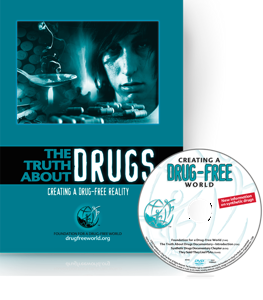 Exclusively for educators, law enforcement officers and other drug prevention specialists who teach students 11 years of age and above in classroom, group instruction or community learning settings.
Your free kit includes:
The Truth About Drugs booklet, the centerpiece of the 13-booklet The Truth About Drugs series;

The Foundation for a Drug-Free World, a video introduction to the Foundation, and our drug awareness-raising tools you can put to immediate use: the award-winning "They Said, They Lied" PSAs and a preview of The Truth About Drugs: Real People, Real Stories documentary.

The Truth About Drugs Program Guide.
One free kit per educator—includes free shipping. To receive your free kit, fill out the form to the right.
If you cannot, for any reason, honor the basic agreement to use this kit to promote drug education activites in your area—and provide documentation of usage—the Foundation for a Drug-Free World can, at the discretion of its officers, exercise the option to ask for shipping charges.