EAST HOLLYWOOD PUBLIC CHARTER SCHOOL STUDENTS GET STRAIGHT FACTS FROM NFL HALL OF FAMER MARSHALL FAULK
EAST HOLLYWOOD, USA
24 February 2022
NFL Hall of Famer Marshall Faulk talks to students in East Hollywood, sharing his struggles growing up and gives tips on how to go from good to great.
Marshall Faulk, Rams football legend and Pro Football Hall of Famer, paid a visit to more than 130 seventh and eighth graders of APEX Academy in East Hollywood. Students were excited, surprised and thrilled to listen to an all-time great giving advice on the opportunities life has to offer to everyone, no matter where they come from.

Faulk shared his own struggles growing up in rough neighborhoods of New Orleans, showing compassion and real understanding of what these kids face in their lives. He spoke about the challenges on and off the field and how he went from good to great. He didn't tell them what to do or think. Rather, he talked to them about freedom of choice and the ease of getting true information.
Faulk said, "Someone is going to give you the 'opportunity' to be 'cool' … what are rappers telling you to do? You need to find out the truth about drugs for yourself." He told them they have what they need to make their own informed decisions and it is in their hands right now—right on their phones.
He was referring to the Truth About Drugs online courses where they can learn what drugs are and what they do and make a self-determined decision about this important subject.
Each student received a special drawstring gift bag from the Foundation for a Drug-Free World with The Truth About Drugs booklets, caps and a special card with instructions to enroll on the free online courses. They also received commemorative Super Bowl LVI stickers and pins, courtesy of Fanatics Inc., a sports marketing company. When the kids received their bags, Faulk made an unexpected deal with them: if they showed they started the online course at drugfreeworld.org/mf, then and there, he would give them his autograph.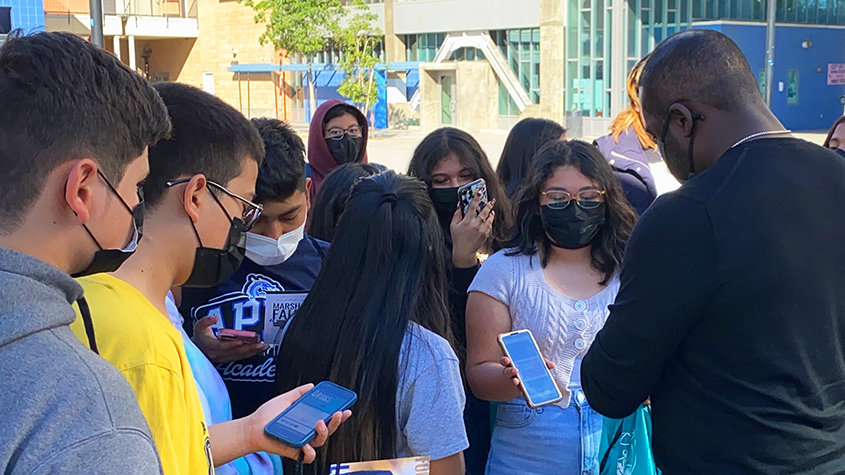 APEX Academy uses education, mentorship and athletics to help children achieve excellence. The academy was given the full Truth About Drugs curriculum to implement. After Faulk's presentation, a representative from APEX Academy said, "Watching our students' faces light up as he spoke was a gift beyond words. Many of our students play football, but they have never been close enough to meet an NFL player, especially not one of their home team just before the Super Bowl."
"If we can get this to be the curriculum in schools for kids so they are educated," said Faulk, "and have them bring the information home to their parents so they are educated, then you will see cause and effect, and things start to change, and you have the rate of people on drugs or people killed by drugs going down."