GUINEA FINDS HOPE WITH DRUG-FREE WORLD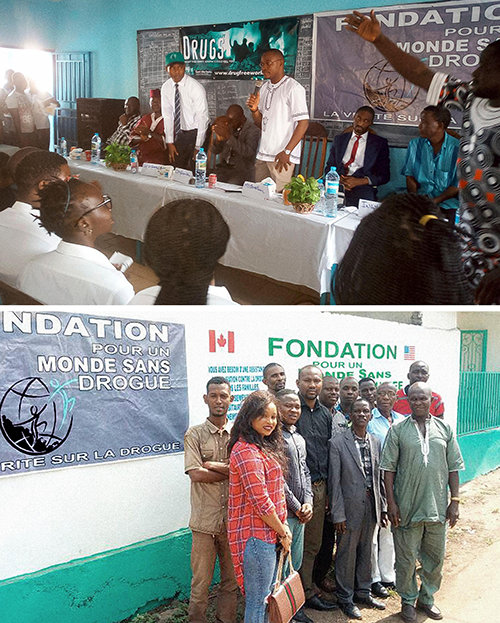 Sylla Faouly wanted to bring truth to Guinea and he found the tools with Drug-Free World.
Guinea is one of Africa's poorest countries. Under three autocratic presidents since 1958, the nation's poverty and corruption is exploited by drug traffickers, which has led to increased drug consumption.
Sylla Faouly, a Guinea business owner, observes, "The government of my country has no policy for drug awareness programs, so drugs are becoming widespread." It was this lack of awareness and the desire to reduce drug use that sent Sylla searching for resources and led him to DFW as the solution.
Needing to first awaken the government to the issue, he met with the Minister of State at the President's Office over Partnership. He then met the Minister Secretary to the Presidency in charge of Special Services for the Fight Against Drugs and Organized Crime. The DFW materials hit the right chord and Sylla was requested to file the Foundation's plan of action so the Department could support him. He therefore established his own office with "Fondation pour un Monde Sans Drogue – Guinée" proudly painted on the wall. He gathered a dedicated team of professors, lawyers, doctors and businesspeople. They then began delivery, including at the King Hassan Moroccans School, where students were taught the importance of leading a drug-free life. They also hit the streets distributing booklets to the general population and will continue, determined in their mission to make Guinea drug-free and safe.
---
WE

really

WANT TO HEAR FROM YOU
Our DFW volunteers distribute The Truth About Drugs booklets to people in their area to stop drug abuse before it starts. Here is what some receiving the booklet had to say:
UNITED STATES
"Thank you for what you are doing. I had three friends die last year from opioids."
"A very close family member died from opioid overdose. This is the type of education that is needed and I wish you great success in your endeavor."
"I had to give up my dream to save my son who was on marijuana. Thank you for standing in the cold weather to fight for our children's health. I admire the way you are going about this and you have inspired me to continue to fight for my son to stay drug free."
GREECE
"Give me extra copies, I want to distribute these booklets in my school."
"Here is my school's number. You must come and deliver a lecture right away in my school!"
EL SALVADOR
"We have to know that it is very important for us to learn about this topic. It will help us realize the long- and short-term effects."
"Thank you for bringing us this campaign. It will help us a lot, and with this we can do something about the expansion of drugs in our area."
UNITED KINGDOM
"This is telling the truth. This happens to us."
"Thank you for this. I didn't realize cannabis would lead to other drugs and that it was so dangerous."
"This is what our young people need to have put in their face. It is a reality that needs to be addressed."
---
FACTS
ALCOHOL ABUSE FACTS
It's time to give people the truth about alcohol. Here are the facts.
30%
OF FATALITIES
from auto accidents are due to alcohol consumption
200
HEALTH PROBLEMS
worldwide, such as liver disease, cancers and injuries, are contributed to by alcohol use
4,700
TEEN DEATHS
a year in the U.S. from alcohol—more than from all illegal drugs, combined
80,000
DEATHS A YEAR
in the U.S. are due to alcohol-related causes
17 million
ADULTS
internationally are diagnosed with alcohol addiction
---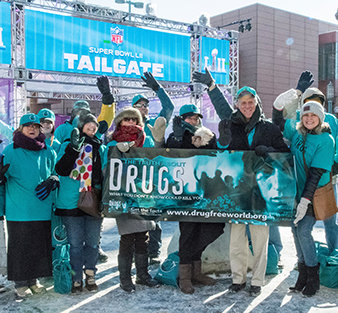 SAVE YOUNG LIVES
Support the Foundation for a Drug-Free World and help protect our youth and the future from the destructive effects of drugs. Your contributions enable us to make our educational materials available free of charge to schools, youth organizations and other groups and individuals. Your support helps empower people with the facts they need to live healthy, drug-free lives.
---