BIKERS SHOW BEING DRUG-FREE IS COOL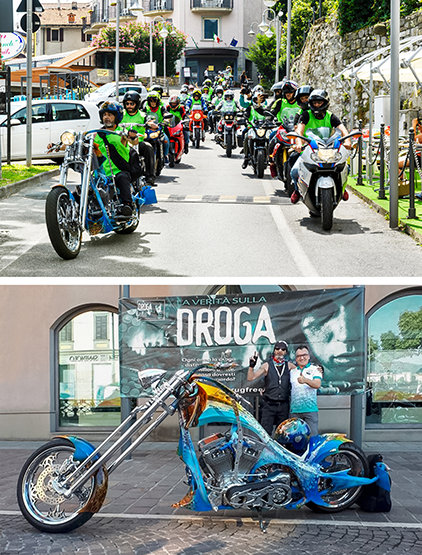 Motorcyclists converge in northern Italy for the first Say No to Drugs Motorbike Rally.
Drug-Free World Italy held its first-ever Say No to Drugs Motorbike Rally, bringing together motorcycle enthusiasts from across northern Italy in a bid to promote living drug-free. The rally was held in Bergamo, an Alpine city northeast of Milano, and was sponsored by the mayors of the towns of Lovere and Sarnico in Bergamo and nearby towns of Sulzano and Iseo in the Brescia province.
The 74 motorcyclists gathered first in Sarnico, donned teal sports bibs promoting the drug-free message and toured the scenic Lake Iseo, visiting each of the sponsoring towns. At each town they were greeted by a Drug-Free World tent and booth, where locals received DFW booklets, and all were encouraged to sign the pledge to live drug-free.
Multiple media outlets, including Teleboario TV and L'Eco di Bergamo newspaper, spread the message to live drug-free still further. With 19 percent of Italian young adults using cannabis last year and cocaine as the next drug of choice, the drug-free message couldn't be more relevant.
These motorcyclists proved to the locals and youth they contacted that the need for speed is better fulfilled sober and drug-free.
---
WE REALLY WANT TO

HEAR

FROM YOU
Many elite athletes establish their own foundations to help young athletes lead healthy, productive lives. Drug-Free World has proven time and again to be a perfect companion.
DIRECTOR, NATIONAL BASKETBALL WIVES ASSOCIATION
"Your Drug-Free World program is exciting. We do a lot of community work and are looking for partners like you. We work in several school districts, and I would like you to send someone to teach our deliverers on how to use the program so they can get started."
BASKETBALL HALL OF FAMER AND COACH
"I'm very interested in Drug-Free World, and I want to use your program. Please let me know how I can help and implement these materials."
SPORTS AGENT
"This is something I could really get behind. Please give me several Education Packages as I have clients I want to give them to."
NATIONAL FOOTBALL LEAGUE PLAYER
"My brother and I founded a sports program for kids which we started when we were teens. It has now gotten very big with a waiting list for attendance. I want to use the Drug-Free World materials in the next camp coming up."
RETIRED NATIONAL FOOTBALL LEAGUE PLAYER
"I am an assistant principal at a high school, and I want ten of your Education Packages for our drug education program for all our students."
HOCKEY HALL OF FAMER
"I want the Education Package and 200 The Truth About Prescription Drug Abuse booklets as I speak to youth all the time, and pain pills are the biggest problem that I see."
RETIRED MAJOR LEAGUE BASEBALL ALL-STAR
"I'm one of those people who lived through this. I had alcohol problems in the past. Please send me all the information on your materials. I'm into this."
---
FACTS
DRUG ABUSE AND ATHLETES
Drugs—from street drugs to steroids and painkillers to alcohol—destroy our athletes.
67
PERCENT
of competitive powerlifters have used anabolic steroids during their careers
52
PERCENT
of football players who play professionally in the US use opioids at some point in their careers
71
PERCENT
of those pro athletes who use opioids admit to misusing them
28
PERCENT
of college athletes used cannabis in the past year
207
MILLION
prescriptions were written for opioid painkillers in a single year, up from 76 million 8 years earlier
---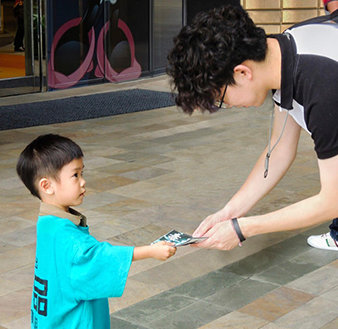 SAVE YOUNG LIVES
Support the Foundation for a Drug-Free World and help protect young lives from the destructive effects of drugs. Your contributions enable us to make our educational materials available free of charge to schools, youth organizations and other groups and individuals. Your support helps empower people with the facts they need to live healthy, drug-free lives.
---