SINGER TOURS WITH TRUTH ABOUT DRUGS GERMANY TO SHOW HOW COOL A DRUG-FREE LIFE CAN BE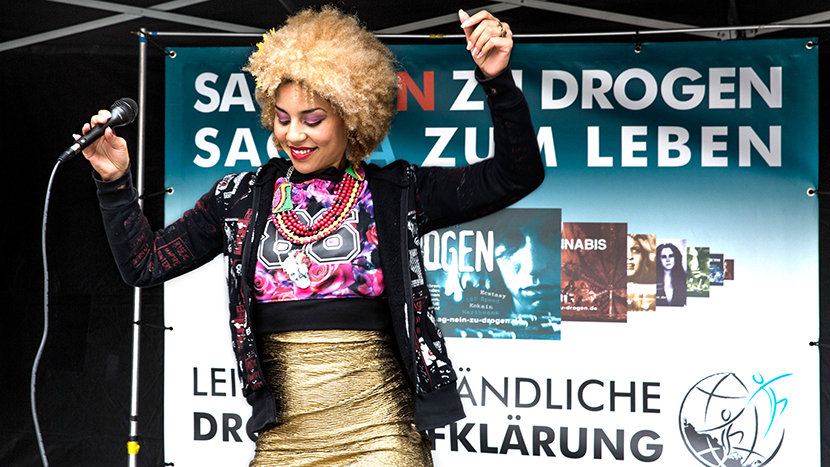 To counter a devastating wave of crystal meth addiction among Germany's youth, singer Joy Villa and the Truth About Drugs team hit drug abuse hot spots along the Czech border for concerts, lectures and massive booklet distribution.
With crystal meth flooding into Germany from the Czech Republic, addicting youth as young as 12 and skyrocketing the number of first-time users by more than 700 percent, the Truth About Drugs team in Germany went into high gear this past year.
They organized a one-week drug prevention tour with popular singer and anti-drug champion Joy Villa across the six German cities most affected by crystal meth: Munich, Nuremberg, Chemnitz, Leipzig, Cottbus and Berlin.
Along the way, Villa and her team distributed more than 111,500 Truth About Drugs booklets and delivered lectures to more than 450 students.
Villa became passionate about drug education after experimenting with drugs as a teen artist. She quickly saw they were a dead-end and quit, but watched as the lives of many close friends and artists went to pieces from drug abuse.
"I want to be an example of what it looks like to be drug-free, and educate young people so that they can say no and help their friends say no."
"I never would have been able to accomplish what I have if I had continued on the path of drugs," she says. "I want to be an example of what it looks like to be drug-free, and educate young people so that they can say no and help their friends say no."
During their tour, one team broke off on booklet distribution and seminar delivery. The other team set up a stage in the busiest part of the city, where Villa would deliver free open-air concerts. Volunteers manning nearby booths were bombarded by interested parents, teachers and kids.
Villa tells of teens who, after reading the booklets, were shocked to learn just how bad the drugs were that their friends were using and now felt empowered to do something about it.
Meanwhile, surveys before and after a single school lecture showed a 20 percent increase in the number of students who decided, based on what they had learned, that drugs were harmful.
"Forewarned is forearmed," says Villa. "If we get The Truth About Drugs information out across the globe, it's going to eradicate drug abuse."
---
FACTS
GETTING THE TRUTH
Here are the Foundation for a Drug-Free World's last 12 months, by the numbers:
192
STATIONS
aired the Truth About Drugs PSAs and documentary, to more than 94 million people.

5,907
SCHOOLS
received free Truth About Drugs materials.

195
COUNTRIES
received the Truth About Drugs materials their residents requested.

> 6 million
BOOKLETS
were distributed, telling the short and long-term effects of drugs and the real stories of former users.

> 200
MILLION PEOPLE
were reached with the Truth About Drugs through booklets, lectures, media and events.
---
DONATE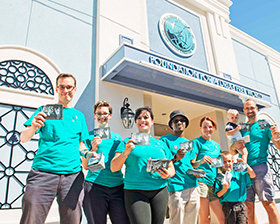 Support the Foundation for a Drug-Free World and help protect young lives from the destructive effects of drugs. Your contributions enable us to make our educational materials available free of charge to schools, youth organizations and other groups and individuals. Your support helps empower people with the facts they need to live healthy, drug-free lives.
---