THE PTA GETS HELP TO ACHIEVE THEIR MISSION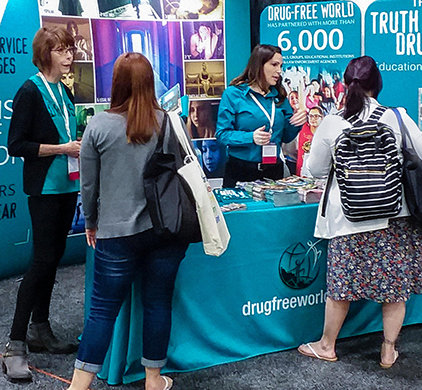 The Parent Teacher Association is working to give children a brighter future and Drug-Free World is giving them a leg up.
This year, Drug-Free World International proudly participated in the PTA Convention and Expo in Columbus, Ohio, at the end of June. The PTA, or Parent Teacher Association, is an organization of parents, teachers and staff designed to facilitate parental participation in schools. The National PTA in America is one of the largest and oldest volunteer organizations working exclusively on behalf of children and youth. It was first founded in February 1897, originally as the National Congress of Mothers.
The PTA's mission, as stated on their website, is "to make every child's potential a reality by engaging and empowering families and communities to advocate for all children." The Truth About Drugs materials couldn't be a more perfect tool to assist in that goal, since drugs undermine every aspect of its accomplishment.
The PTA members who attended this year's Expo represented more than four million parents, teachers, grandparents, caregivers, foster parents and other caring adults across the US. DFW displayed the various materials it offers, including its series of 14 booklets on the most commonly abused drugs, the Truth About Drugs Education Package, the Real People, Real Stories documentary and the 17 "They Said/They Lied" public service announcements.
With more than 150 PTA members—including several state PTA presidents—taking home full Truth About Drugs Education Packages, it was clear that the materials fit right in with their work. Members reaching for the materials included those from Illinois and Kentucky who requested them for statewide implementation and by the representative for the European PTA who works with overseas US military schools.
With research showing that drug use often starts in a person's early teens and sometimes even in their preteens, it's no surprise that DFW's drug educational materials are so popular with parents and teachers. One aspect of the situation is that by the time they are seniors, almost 70 percent of high school students will have tried alcohol, half will have taken an illegal drug and 20 percent will have used a prescription drug for a nonmedical purpose.
This was all too real to a member of the Atlanta, Georgia, PTA who is also a teacher with the Young Marines. She visited the booth and said she had already been using DFW's online resources and shared how much of an impact it had with her students. She also provides her students with copies of the DFW booklets, so they can have something to take home reminding them of what they learned in class. She loved that the booklets were "fact based and easy to use."
With research showing that drug use often starts in a person's early teens and sometimes even in their preteens, it's no surprise that DFW's drug educational materials are so popular with parents and teachers.
Another booth visitor, the President of the Georgia PTA, has been using the materials and loves the resource. She has been working to gain more involvement from schools and educational areas on the link between human trafficking and gangs with drugs. She sees drug education as a key solution to that.
The President of the Alaska PTA had received the Truth About Drugs materials the previous year, but a massive earthquake in November 2018 had cut her access to them. She therefore was all too happy to be able to get a new package and wants to eventually implement the program statewide.
A Policy Chairman for the Maryland PTA was similarly familiar with the Drug-Free World program and immediately ordered additional materials from DFW to implement.
Educators can easily get their copy of the Truth About Drugs Education Package at drugfreeworld.org/educator.
---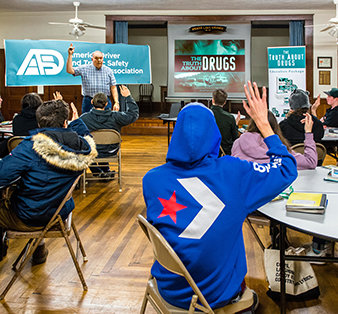 SAVE LIVES FROM DRUGS
Support the Foundation for a Drug-Free World and help protect young lives from the destructive effects of drugs. Your contributions enable us to make our educational materials available free of charge to schools, youth organizations and other groups and individuals. Your support helps empower people with the facts they need to live healthy, drug-free lives.
---