HELPING YOUTH STEER STRAIGHT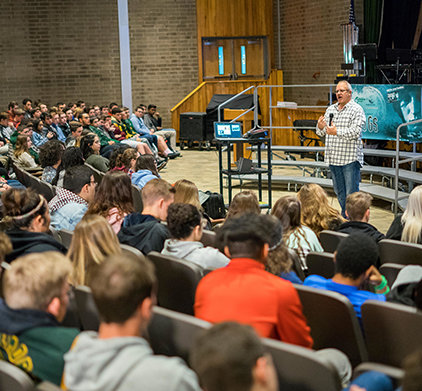 Michael DeLeon and his Steered Straight team travel the US teaching youth the truth about drugs to give them a brighter future.
For over 18 years, Michael DeLeon has traveled the United States from his New Jersey hometown teaching youth the truth about drugs. His purpose: help young people avoid the mistakes he made as a cocaine addict, turned heroin addict, turned gangster.
"I don't want my past to be their future," DeLeon states. "I did many bad things. I hurt many people. I broke nearly every law written and spent nearly 14 total years in prison and halfway houses for the crimes I committed and for ones that although I didn't commit, I am responsible for."
DeLeon founded Steered Straight in 2000, a program which reaches out to children, teens and young adults to help them become aware of their life choices and the consequences of their actions. He now has a team of speakers who traverse the US, presenting a realistic and powerful prevention message. When he speaks at schools, he shares his real story, hiding no gruesome detail.
"I have traveled the state of New Jersey and across the country making a difference in the lives of people by sharing my story and educating youth with it.
"This has become my life's mission. I don't do it for the accolades. I don't do it for respect. I do it because I have been given a new life by a God who wants much from me," DeLeon said.
As part of his activities, he has produced four award-winning documentaries. His first video was Kids Are Dying. For this he interviewed 137 kids in Camden, New Jersey, and Philadelphia, Pennsylvania, who were hooked on heroin. He found every one of them had smoked marijuana, cigarettes, vaped or used e-cigarettes and drank alcohol when underage before moving on to heroin.
Searching for drug information for his daughter, he found Drug-Free World in 2012. He started using The Truth About Drugs: Real People, Real Stories documentary and the "They Said/They Lied" public service announcements. He soon incorporated The Truth About Drugs booklets into his daily school seminars. DeLeon, Drug-Free World's self-proclaimed biggest fan, signed a partnership with Drug-Free World and soon DFW's logo adorned DeLeon's RV that takes him state to state.
"They all told me that the ONLY reason that they came to see me was that their children came home and couldn't stop talking about my visit to their school."
DeLeon's seminars get people talking, as he explains, "In Monmouth County, New Jersey, a very affluent county with the second-highest level of heroin use in the state, I had many parents come to an evening session for a drug-awareness seminar. They all told me that the ONLY reason that they came to see me was that their children came home and couldn't stop talking about my visit to their school. They had conversations with their kids about drugs and underage drinking, conversations that they had never had before.
"I receive hundreds of emails, social media messages and letters from students, parents and educators, about the difference I am making with students and staff alike."
Youth he reaches in schools tell him that they now realize that addiction can happen to anyone and they share stories of their own or a family member's addiction.
When he has students tell him that they will no longer try marijuana or other drugs because of his presentation, he says that is what his efforts are all about.
Having now reached more than 7 million youth across 47 states with his story and The Truth About Drugs videos, as well as the distribution of more than 290,000 The Truth About Drugs booklets, DeLeon is not letting up until he knows every child is reached with the message of how drugs wreck a person and their life. "I don't want to just affect one kid, I want to affect them all."
---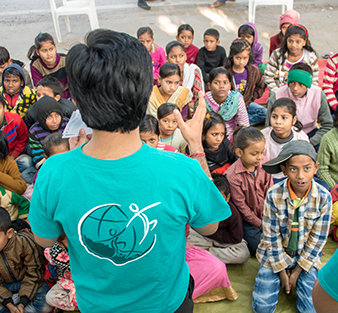 SAVE THE LIVES OF YOUTH
Support the Foundation for a Drug-Free World and help protect young lives from the destructive effects of drugs. Your contributions enable us to make our educational materials available free of charge to schools, youth organizations and other groups and individuals. Your support helps empower people with the facts they need to live healthy, drug-free lives.
---